Pages: 1 2 3 4 .. 8

Funkerman23

-

2-2-2012 at 09:12



U2U sent on the dean stark trap an the cold finger condenser in case someone else wants/needs to know.
---
Funkerman23

-

2-2-2012 at 09:15



hmmm so no foul in using a variac if one has a few laying about? that is convenient.
---
mr.crow

-

2-2-2012 at 09:41



Do you mean a dimmer switch? Yes it will work.

A variac is something else. A variable autotransformer, a large heavy box with a huge dial on it. Variacs are actually the proper way to do it since you know what the voltage is.
---
Dr.Bob

-

4-2-2012 at 19:16



Here are a few more photos of some bottles I have. I keep trying to add this to my list, but a picture is worth a lot more sometimes. I have more than just what is shown, but I try to show what I have the most of. I have a lot of other items in smaller quantities.

Photo 1 - Plastic bottles 125, 500 and 1000 ml - (~4, 16, and 32 oz) - 125, 500 are Nalgene, polypropylene the 1000 ml are Fischer brand HDPE. They are 125 ml ($1), 500 ($2) and 1000 ($3), but I can do discounts for multiples of one or various sizes.

Photo 2 - Glass bottles- again, only a small sample -
125 ml Quarpak amber bottle with Teflon cap - used once for solvent only - $2 each - I only have a few left
Various wide mouth round glass bottles - $1 for smaller ones with black lid, $2 for Teflon lid ones. I have round and square bottles in several sizes, most will be same pricing, I only have a limited number of ones with teflon lids. I also have a few smaller Quarpak ones (~50 ml) which are new with Teflon lids.

Photo 3 - Fleaker - I have a few of these, willing to sell for $3 each - discount if your username is fleaker.




---
Dr.Bob

-

4-2-2012 at 19:22



Here are a few more photos of some more 24/40 glassware, more esoteric items. Most of these items would be between $15 and $30 each, send me a note for prices, or make me an offer.

Photo 1 - Dean Starks - all 24/40 - all Teflon stopcocks. Most are $15-25 - I have a more of these as well, keep finding them in boxes I am unpacking. No stopcock = $15, simple stopcock = $20, complex = $25

Photo 2 - dist. stuff #1 - There is still more, this is another box load...

Photo 3 - dist. stuff #2 -

I have a number of powder addition funnels as well, in both 24/40 and 14/20, one example is shown, I have a few others.





[Edited on 5-2-2012 by Dr.Bob]
---
Dr.Bob

-

4-2-2012 at 20:07





A variac is an excellent way to control a heating mantle. I have found that most of the time you will need 35-60 volts for most reflux systems of normal organic solvents. Ether may only take 10-30 V, DMF may take 80 V, but I rarely go above 80V.

Hope that helps, and I have posted more info elsewhere now.
---
modgod

-

9-2-2012 at 14:00



Hey there Dr.Bob

Looking for the following, would be happy if you could let me know whats available.

1x250 Round bottom flask
500
1L

20cm Vigreux Column + Liebig Condensor

3 Way Adapter + Vaccum Adapter

Sep Funnels, 1l/2l Depending on shipping

Would also like an assortment of differing flask sizes and a few watchglasses.

If you could give me an idea of whats available and the cost with shipping to UK

Any help much appreciated, nice what you are doing for everyone here
---
Thanks Agian
Bot0nist

-

9-2-2012 at 18:39



Dr. Bob, I received my order today. As usual, I was more than pleased. The glassware looks almost brand new and that 14/20 kit is amazing. It is truly a work of art to look at. That 250ml 3 neck, The short path, maybe it's just me but DAMN 14/20 glass is sexy! And thank you again for throwing in the extras. Those clamps are more than I could ask for, and the tubing and jars will be put to good use promptly. Thanks for the pipette and culture trays/tubes. All those stir bars... Thank you.

A stupid question , if you don't mind. What is the little 14/20 U-turn looking piece?
---
Dr.Bob

-

10-2-2012 at 05:36





It is a drying tube, you put a plug of cotton or glass wool in, then some drying agent, then another plug of cotton or glass wool in it, and it will keep moisture out of the reaction. Useful when you don't have inert gas, but do have humidity.
---
AirCowPeaCock

-

14-2-2012 at 08:07



Received 110$ of glass from Dr. Bob, very pleased! I got a little more than I asked for too
I would certainly recommend.
---
Dr.Bob

-

17-2-2012 at 19:19



Someone asked me about a 47 mm membrane filter assembly a while back, I can't remember who, but I found some of the glassware for using them, so please let me know if you still want the filter assembly. Once I have taken care of the person who asked about it, I will post some photos of that and some other stuff.

I have been so busy lately that I have not been able to post much new stuff, but I still have a lot to get listed and take photos of. If you have inquired by u2u and not gotten an answer yet, please resend your note, I have gotten so many messages recently, that I have been hard pressed to answer all of them. I have had to put priority on filling existing orders, so I have not been able to answer every question quickly, so I apologize. But I really appreciate everyone's help in getting this stuff out of my garage.
---
MyNameIsUnnecessarilyLong

-

20-2-2012 at 02:27



Bob, do you have a 35/20 ball socket to (14/20, 24/40, 19/22), or a 45/50 (male) to 24/40 (female) adapter? I'm also looking for a metal S35 joint clip.

[Edited on 2-20-2012 by MyNameIsUnnecessarilyLong]
---
Dr.Bob

-

20-2-2012 at 09:19



I will look through the box of adapters for the ball joint adapters, I know I have seen some with ball joints, not sure what the other side was. I also do have some bushing type adapters, I will look to see if any are 45/50 ro 24/40 ones. But I have LOTS of S35, and many other sized, metal joint clips. I have an entire box of those.
I also have a number of adjustable gas flow adapters for the tops of flash columns, in 24/40, spherical joints of several sizes, and even 29/49 I think. I am still working on getting lists or photos of the items, it has been a very busy month, so I have not gotten much done lately.

Bob
---
MyNameIsUnnecessarilyLong

-

21-2-2012 at 14:57



Just received the addition funnel today. Looks good. Thanks for including the stopper for it.




These parts are actually for my rotovap. The tapered end size for the ball joint adapter doesn't much matter, just as long as its something relatively common. Anything would be better than having to use Buchi's special flasks. The 45/50 adapter is also going to be used so I can plug in normal condensers instead of Buchi's exponentially overpriced ones.
---
Dr.Bob

-

25-2-2012 at 18:13



I have sold some of the Dean Stark Traps, but also found a few more. Here is what I have left now. Simple ones and glass stopcocks are $20, Teflon stopcocks are $25.

I also have a few flat bottom flasks in several sizes from 50 to 1000 ml. Pricing is the same as for rbfs.

Also some bump bulbs in several sizes, I have many more of these in every variation, size, and style. Most would be $20, larger ones a little more. Some may need cleaning. I also have smaller 14/20 ones that can be used for bulb to bulb distillations for less.





[Edited on 26-2-2012 by Dr.Bob]
---
Dr.Bob

-

25-2-2012 at 18:18



Here are 4 more photos of 24/40 distillation apparatus. The 1st one includes short paths, short west condensers, powder addition funnels, drying tube, inlet adapters, and a simpole dist. head.

The 2nd one has straight columns, claisens, and more.

The 3rd one has a cow and bull, a bunch of inlets with stopcocks (I have more stopcocks, they will all come with one.)

The 4th one has dist heads, vacuum adapters, and more.




[Edited on 26-2-2012 by Dr.Bob]
---
Dr.Bob

-

25-2-2012 at 18:25



Lastly, here are some more things to look over.

1st is more dist stuff.

2nd is resin vessels and filtration vessels. I have a bunch of these, in many sizes, caps, outlets and frit porosities.

3rd is vials racks for scint. vials, 4 or 8 ml vials, HPLC vials, and eppendorf vials. I have a number of these in many formats. They would be cheap.

4th is test tube racks for 13, 16, and 25 mm test tubes. I have a lot of the 16 mm ones, in a variety of colors, some even new. I also have a few other types, even a few metal ones.




[Edited on 26-2-2012 by Dr.Bob]

[Edited on 26-2-2012 by Dr.Bob]
---
MyNameIsUnnecessarilyLong

-

26-2-2012 at 02:09



Hello.

How much do you want for either of those still heads in that last row of pics?
---
bfesser

-

26-2-2012 at 08:40



<table border="1"><tr><td><strong><em>Welcome to Bonerville. Population: 11123.</em></strong></td></tr></table>

Dr.Bob, do you happen to have the matching stopcock for the smaller of the two powder addition funnels in the following picture?
http://www.sciencemadness.org/talk/files.php?pid=238396&...

[Edited on 2/26/12 by bfesser]
---
Dr.Bob

-

26-2-2012 at 13:08





I am sure that I have it somewhere, it was still in the plastic bag. I also have several boxes of stopcocks and pieces, so I can find the right one. I have been selling those for $50, which is a bargain, considering they are mostly like new and they sell for $200 new.

Bob


---
Dr.Bob

-

26-2-2012 at 13:16





I would ask $100 for any of the still heads or the 24/40 dist head with the Dean Stark traps. But people are welcome to make me an offer for them, and I will consider. Shipping is based on real costs, so that might add $10-20 in the US, less with other items.

[Edited on 26-2-2012 by Dr.Bob]
---
Funkerman23

-

28-2-2012 at 08:05



Message inbound.....

[Edited on 28-2-2012 by Funkerman23]
---
tastyphenome

-

29-2-2012 at 11:17



thankyou very much. got my box today. very nice stuff, fair price, awesome customer care. i give my (worthless) endorsement.

---
Chordate

-

29-2-2012 at 23:31



Ha. I just remembered that I forgot to post feedback.

Ordered a few hundred bucks worth of stuff from Dr. Bob awhile back. A jack got banged up in shipping and he offered to make it right on the spot, though it wound up not being necessary as a quick trip to the hardware store fixed it.

He was prompt and professional. I only wish he had a warehouse full of toys for sale.
---
Dr.Bob

-

1-3-2012 at 20:01



Here are some photos of some rotovap parts someone asked me about. This is a sample, I have a whole box of parts, and other pieces scattered about. The only real challenge is that most are not labelled or easy to identify so I cannot always tell which part is for which model number. But I am happy to try to help people who want parts. Inquire for prices or make an offer.

Also is a photo of TLC chambers of all types. Most would be $20, some might be a little more or less. I can provide more info on them if you have questions.

Bob




[Edited on 2-3-2012 by Dr.Bob]
---
Funkerman23

-

3-3-2012 at 05:31



Any Dreschel( gas washing) bottles with the sintered heads?
---
Dr.Bob

-

3-3-2012 at 12:09





I have a bunch of the tops and bottoms in several boxes, but have not yet played the dating game of trying to assemble them into matched pairs that fit together. There are several joint sizes, some have tubes too long to fit in others, etc. But I am happy to try to find one in the near future.

Bob
---
sbbspartan

-

8-3-2012 at 18:02



Hi Dr. Bob. I am trying to buy some parts so I can make a distillation apparatus at home. Your prices looked really good, but I don't know what parts you have left. I was looking at the "Adapter, Thermometer, Inlet, 24/40 Inner Joint, 80mm Height, #7", the "Adapter, Distillation, 75°, 24/40 Inner Joints, Bent 75°", the 500ml round bottom boiling flask 24/40, and either the 2000 or 3000 ml round bottom boiling flask 24/40. Do you have any of these items left? Also, do you have any liebig condensers. If so, what sizes do you have, and what size would you recommend for a hobby chemist? What size condenser would work best for distilling nitric acid, 200mm, 300mm, 400mm, or 500mm? Or would you recommend some other type of condenser? Also, do you have any 24/40 glass stoppers, I could use a few. And the last item, a thermometer that can go up to 200+ degrees C. They sell a -10 to 260 degree C, P/I, .1 degree accuracy thermometer for $9 on Cynmar which I would buy in a heartbeat, except for the fact that they have a minimum order of $25. How much would each of these items cost? Lastly, how would I pay you, is it through paypal or something similar? Thanks for any info.

[Edited on 10-3-2012 by sbbspartan]
---
mr.crow

-

11-3-2012 at 20:15



Do you happen to have any giant graduated addition funnels?
---
Excellent doing business!
zgoat65

-

12-3-2012 at 14:42



Dr.Bob is not only legitimate, but provides excellent quality and service. We took the time to put together exactly what I wanted, and the payment process was incredibly smooth. I recieved my order exactly when I expected it, and everything was in perfect condition. Thanks Dr.Bob!
---
Dr.Bob

-

13-3-2012 at 13:12





I have a few larger ones left. The biggest ones are all 29/42, I think, but at least one is 2000 ml. I don't remember the exact graduations, but most have some sort of rough guidelines on them. They are not meant to be highly accurate, just to give you a rough rate of a addition. How big are you wanting?

Bob
---
mr.crow

-

14-3-2012 at 07:03



A 1L 24/40 would be nice. Without equalizing tube is fine. Cylindrical is preferred. If not a 1L sep funnel would suffice
---
Dr.Bob

-

19-3-2012 at 10:17



One more thing I keep finding more of in my boxes is NMR tubes. If anyone out there needs some, let me know, I have a bunch of them (all used), but I have some clean and some still dirty (I'll sell them much cheaper) in several brands and part numbers, ranging from economy tubes for 60 Mhz up to Wilmad 528 and better ones. I would be willing to sell the dirty ones for $10/100, clean economy ones for $20/100, and the better quality clean ones for $30-50 per hundred. I will throw in a few freev samples for anyone with an NMR in their garage/basement, anyone willing to do that deserves a few tubes for free. ( Postage not included). I also have a few UV cuvettes and other random analytical stuff. If you have a university address, I am also willing to give a better deal as well.

Bob
---
RonPaul2012

-

22-3-2012 at 13:49



I just got a bunch of glassware from Dr. Bob.

It's all US made HQ glassware , it is a bit older but it's a lot thicker than the crap they sell now and at half the price too


I really wish I would have joined this forum sooner because I could have saved myself literally hundreds of dollar


Learn from my mistake and buy everything Dr. Bob has for sale now


I highly recommend him.

He was very easy to deal with and was willing to negotiate prices and give outstanding deals.

Thanks Dr. Bob
---
Dr.Bob

-

23-3-2012 at 18:33



Here are a few more photos of stuff that is harder to describe. First some rotovap parts, this is part of them, I have a lot of smaller pieces as well. Then 2 photos of some of the vacuum traps, a few are brand new. There are tube inlets for 1/4 to 5/8 " tubing. lastly I have a few gas dispersion bottles, or traps. Inquire about the rotovaps parts, the traps I would ask from $10 to $40, depending on complexity and condition.




[Edited on 24-3-2012 by Dr.Bob]
---
Dr.Bob

-

23-3-2012 at 18:42



Here are a sample of the chromatography columns. I have a variety of these with 24/40, 29/42, spherical, and other tops, with and without frits, and most have Teflon stopcocks. I also have reservoirs, air pressure regulators, and other accessories in all types, shapes and sizes. Let me know what you want, and I can try to find it, and send a photo of a more specific one.

I am asking ~$10 per 1/2" of diameter - eg up to 1/2" column is $10, 1" is $20, 2" is $40, etc. I have some up to 4-5" dia. and 3 feet long. I would ask less for simpler ones w/o top joint or a frit. For the larger ones, I can include the regulators and such in the price. Inquire about a size or make me an offer. I have simple fritted funnels up to really large sizes.


---
Dr.Bob

-

23-3-2012 at 18:46



Lastly, here is some more unusual stuff. Some sort of 29/42 distillation head, something I am not sure of (maybe a sublimation apparatus?), a 24/40 bull fraction collector, and another fancier distillation receiver. On the first two, please make me an offer.

The 24/40 bull I am asking $60 for (I can throw in a few 50 ml rbfs with that, I don't have the springs). I have 14/20 ones that are just smaller, they would be $40, I can add some small flasks with that as well.

The receiver is similar to one listed below, I'll ask $100 for it OBO.
http://www.chemglass.com/product_view.asp?pnr=CG-1274




[Edited on 24-3-2012 by Dr.Bob]
---
mr.crow

-

24-3-2012 at 13:31



OMG I have always wanted one of those distillation receivers!
---
mophead

-

28-3-2012 at 10:34



I bought a few items from Bob.

Outstanding bargains, packing, selection and communication.

Thanks Bob.
---
Dr.Bob

-

29-3-2012 at 17:20



A member was nice enough to point out a link to the sublimation apparatus on the bottom left a few posts above. It is apparently from Ace Glass - 50ML Sublimation Appr "C" 8025-25. Thanks.

http://www.labplanet.com/ace-glass-laboratory-glassware-and-...
---
davic666

-

30-3-2012 at 03:32



do you by any chance happen to have a simple distilling head and a vacuum adapter left? i'll also check and see if heisenberg needs anything!
---
Dr.Bob

-

2-4-2012 at 17:31



I have found a box full of wash bottles recently. I will sell them for $3 each or 2 for $5, most are pre-labelled with solvents and hazard info. I have them for methanol, isopropanol, dichloromethane, ethanol, ethyl acetate, and one or two others. I have a couple blank ones as well.

Photo: http://media.vwr.com/stibo/low_res/4698921.jpg

The description is at https://us.vwr.com/store/catalog/product.jsp?catalog_number=...
---
movenosound

-

10-4-2012 at 13:12



I believe this is my first post to the forums, having been a lurker for some time. I just wanted to add to the growing list of satisfied customers of Dr. Bob. The service provided is quite personable, and timely, and with every order he has added extras that make an already fantastic deal an unbelievable one. Before you do business anywhere else, try contacting him, keep your money in the community.

A point that I think needs to be stressed; please do not waste his time requesting an order be put together and then fail to follow through. Don't waste his time and diminish his patience, which in turn effects the rest of us who follow though and work to create a good relationship with what I consider to be the best resource for lab equipment available to the amatuer at present. Resepect the Doc and don't F**k around. Por favor.
---
killswitch

-

10-4-2012 at 13:27



He's still got stuff left after a whole year?
---
inspector071

-

10-4-2012 at 13:32



Yep, I just received a good bit of various pieces of glassware; beakers, flasks, bottles, etc. Had a great experience with him, and plan on ordering a few more things soon.
---
Funkerman23

-

10-4-2012 at 14:30



I sure hope so!I've ordered a fair bit from him and can't say enough good things about him.
---
cAMP

-

10-4-2012 at 19:09



Ditto. Ordered a bunch of stuff from Dr. Bob and I got an absolutely fantastic deal. Everything was packed well and had no breakages. Highly recommended.
---
Dr.Bob

-

12-4-2012 at 09:31



I still have stuff left, but am starting to run out of a few things. Out of almost all beakers, starting to run out of erl. flasks in some sizes, and 24/40 flasks are mostly gone. But I still have lots of other stuff left, and if I ever find the time unpack more boxes, I'll find more stuff. I have had some glass break in shipping (just lost three flasks this week), but I try to replace it as best as I can. I will be traveling some the next two weeks, so don't be surprised if I take a little while to get back to messages for the next 2 weeks, but then I will be back for the rest of summer. I'll try to post some more photos and lists then, still trying to check out some hot/stirplates that I recently unpacked, but not done yet.

Thanks to everyone who has helped me clean out this stuff, I can actually move a little in the garage now. That has allowed me to look in boxes that have not been opened in over a year. Plus my wife hopes to one day be able to park in it again. Not likely for a while still. My friend is also very grateful for your help with his retirement. He loved doing chemistry, so he is also happy that this stuff is being use and not lost or thrown out.
---
Dr.Bob

-

28-4-2012 at 16:48



Here is a newer list of the glassware that is left after a few large orders were filled. Thanks to everyone.

Bob

Attachment: Glassware Inventory.xls (60kB)
This file has been downloaded 792 times


---
Dr.Bob

-

3-5-2012 at 04:19



Here is another photo of some traps that I missed last time, Doh. They are each about $20-30. I hve yet more of them if I can get to the box. I hope to get some more photos of the more unuasual stuff soon, but I was away for a while.

One other note, the u2u system balks if I try to send too many messages in a short time, as a spam filter, and I have been getting a lot of messages lately, so I have had it delete some messages as spam so if you have sent me a message, and did not get a reply, please try again, and I am trying to sort this all out. Once I get your note, I will send you a note with my email, as it is much easier to use for orders, and I can attach files. I cannot send the inventory list via a u2u as best as I can tell.

Bob


---
99chemicals

-

17-5-2012 at 14:30



He is legit. I spent 18 dollars for 6 stirbars and a 24/40 gas adapter. The regular price of the other items would have been over 35$.

Thanks for the great deals.
---
Mailinmypocket

-

18-5-2012 at 10:30



I also meant to leave a quick comment about my order from Dr Bob a little while back. The prices are ridiculously low and the glass is all high quality. Everything is packed with care
highly recommended especially for brand name ground glass!
---
Dr.Bob

-

20-5-2012 at 15:49



Here are a few more stir or hot plates that I have recently found and now tested.

The first from the left is a Barnstead stir plate, model S46415 which I am asking $60. It is in very good condition and stirs well.

The second is a small Corning stirring hotplate, model PC-162, it is ONLY 200 watts, so it will not heat very hot,but stirs well. Asking $80. It has some dirt burned into it.

The next is a Corning PC-320 with a slightly melted temp knob and a frayed cord at the rear. These can be easily repaired by opening it up and just pulling a few inches of cord inside so that the frayed piece in inside the hotplate. But it stirs and heats fine. I'm asking $80 due to the condition. Great way to save some money if you like fixing things. I have done it before, but am to busy right now.

I have another PC-320 in very condition (not pictured, but looks like the above without melted knob) with good cord and no damage, other than slight dirt on top, it would be $100 and it works great.

Lastly, I have a Corning PC-410 stirplate which is in nearly new condition, removable PC type plug in great shape, stirs perfectly from slow to fast. This would be $100.

Shipping on these would be about $15 for flat rate priority mail box to most locations in the US. International shipping on these would be quite high due to the weight. It would be $35-80 depending on location from Canada to Asia.


---
Dr.Bob

-

20-5-2012 at 16:03



For the people who have been asking, I just found a box of more 24/40 3 neck round bottom flasks. There are 6 x 1000 ml and 2 x 2000 ml with all 24/40 joints. First priority goes to people who have already asked about them, then anyone else. They are $20 and $30 each, plus shipping.

There are also a few odd ones, pictured. The center 2 might be great for someone with access to a glass torch or glassblower that can unstick them, or someone who doesn't mind having an extra adapter permanently attached.

First, a 1000 ml with a 34/45 center joint. It would be $25, including a 24/40 to 34/45 adapter. These are great for mechanical stirrers or other reactions where a larger joint is helpful.

Second a 500 ml RBF with 3 24/40 joints, but the center one has an 14/20 adapter stuck in it. This would be only $8.

Third a a 1000 ml with a 34/45 center joint with a 24/40 to 34/45 adapter stuck in it. Only $15.

And lastly, a 250 ml (the center flask is 500 ml, but the drain tube is only halfway up) still head from Chemglass. This appears unused or nearly new. The item lists new for $360, I will sell it for $120.

http://www.chemglass.com/product_view.asp?pnr=CG-1233


---
Fossil

-

28-5-2012 at 13:20



I just got my order in. It was packed with care and everything I ordered was in there. The prices were great and the glass of good quality. Some of the stuff was very used with many scratches, although there were no chips. Other pieces were brand new, like a 250ml 3 neck chemglass rbf I got. About half of what I received appeared brand new, 3/8 of it lightly used and the rest heavily used. All in all totally worth it and would definitely buy again.

Thanks again Dr. Bob!
---
Dr.Bob

-

6-6-2012 at 19:15



Here are three of several Dewar condensers, since several people have asked about them. I have been asking $40-50 for them depending on size and complexity.

Also pictured is an Ace Firestone valve, designed for vacuum purging flasks with minimum inert gas usage. I have a few in various states of condition. I have been asking $100 for these in like new condition, less for used ones.


---
Dr. Bob Rocks!
wymanthescienceman

-

10-6-2012 at 22:10



I'd like to thank Dr. Bob for his excellent products and service! I ordered about $100 worth of his glassware and supplies and couldn't be happier with what I received!

Among the things I ordered were one of his chromatography columns, some filtering flasks, screw top test tubes, the list goes on. Everything arrived UNBROKEN, an absolute miracle seeing as how much glass was in the box, he's a freaking packing magician!

Everything seems to be great quality, aside from some significant scratching in some of the larger flasks, everything was great!

I highly recommend him if you need anything he has up for sale, he was very good with communication and even threw in some great free items to go with the rest of the stash, as well as going out of his way to accommodate my needs.

Thanks again Dr. Bob, you're a real great guy helping us all out like this, and it will be a pleasure to do business with you again!
---
Dr.Bob

-

11-6-2012 at 07:29



I will mention that I ship the best I have of each item as I get orders, so in some areas, all I have left is the ones that are more worn or scratched. As I get to that state, I try to mention it in the spreadsheet, but if there are only a few of something left, you might want to assume that it will be scratched or worn a bit, like 200/250 ml 24/40 flasks, 2000 ml filter flasks, and most larger 3 necks flasks left (I do have a few smaller ones in like new shape.) I am happy to verify the condition of an item before you order.

As well, I have a number of larger filter flasks where the side arm vacuum inlet has been chipped or broken, but is still usable. I will likely try to fire polish them, but if anyone is interested in bargain filter flasks, I have several with damaged side inlets that I will sell for a discount on the normal price, depending on the exact condition. Especially if you would like a few of them or a variety of sizes (up to 4L) I can make a good deal for a few of them.

One final note: I will be unavailable most of the week of June 29 - July 8th, so if you send me a note then, I may be slow to answer it. I will try to get all orders completed before then, and ask that people not make payments then unless they are willing to wait a few days on the order being shipped.

Thanks to all for your orders,

Bob
---
Dr.Bob

-

23-6-2012 at 17:42



Here is the latest list. I am running out of 24/40 stuff fast, still have one 14/20 dist. kit left along with many 14/20 flasks and pieces. I have sold most of the hotplates above, still have a few stir plates.

Bob

Attachment: Glassware Inventory.xls (61kB)
This file has been downloaded 666 times


---
Nucleation

-

30-6-2012 at 13:46



Just wanted to throw out a quick thank you to Dr. Bob, as the last 6 pages have done. I had the pleasure of meeting him last week, class act, reminds me of a younger iteration Org 2 Prof, and that is a stern compliment! Picked up a PC-620, mint condition, one would be hard pressed to tell it was used, only with very close inspection, also the digital thermo controller, brand new, old stock, in the box with instructions, warranty card, brand new in the flipping box! Thank you!

Per the last xls doc, he is running short on 24/40 stuff, but those into 14/20, he still has a great deal left... Anyone with reservations, or a need, I can vouch that he is real, and prices you will not find anywhere else so please check the last doc out. Thanks again Dr. Bob, class act!
---
Dr.Bob

-

12-7-2012 at 18:48



I just found a few more boxes of biology type supplies. I have some plastic petri dishes (100 mm mostly), plastic pipettes, 96 well plates, plastic droppers, plastic centrifuge tubes (50ml) and ore.

I am working on getting more photos of the remaining glassware to post soon. I have limited 24/40 stuff left, and a shrinking amount of 14/20 glassware and adapters. And while most beakers and larger erlenmeyers are gone, but I have lots of filter flasks and buchner funnels left. Once I catch up from being gone a while, I will start posting the photos and a new inventory list. Thanks to everyone for being patience while I was out of town. Happy Belated Independence Day.
---
Dr.Bob

-

13-7-2012 at 18:18



Here are a few more odd items.

I have about 10 of the porcelain dishes/crucibles ($2 each), one 24/40 cold finger type condenser ($20) several types of 19/22 spray bottle (for TLC or other uses, $10-20) and a 29/42 vacuum jacketed fractionating vacuum dist. head. ($100). Please contact me for more info and more photos




[Edited on 14-7-2012 by Dr.Bob]
---
elementcollector1

-

14-7-2012 at 07:46



Sent a U2U on some small stuff, do hope no one snapped it up earlier!
---
Funkerman23

-

14-7-2012 at 10:29



those porcelain dishes( shown above) have a flat bottom bychance?
---
Dr.Bob

-

16-7-2012 at 04:14



Yes, the porcelain dishes have flat bottoms. They almost look like cereal bowls, but say Coors on the side.

I also have a few crucibles somewhere that are much taller but smaller diameter. Just haven't found them all yet and matched lids to Trying to find all of the pieces and then make matched sets of tops and bottoms is like some giant dating game or jigsaw puzzle. I have some many odd pieces, some of which likely fit together, but just getting them all in one place is hard.
---
beatle_guce

-

20-7-2012 at 11:44



any retorts? or distillation equip on the cheap?
---
Hexavalent

-

20-7-2012 at 12:25





Not you again; did you even read these posts before making your own?

Dr Bob has said numerous times about the distillation equipment he has available, if only you'd read what he's said.
---
Dr.Bob

-

23-7-2012 at 17:57



Here is a photo of some of the remaining Claisen adapters ($20 each). Also, photos of two batches of 19/22 glassware (make an offer for either) that I recently found and a very fancy cold trap for a vacuum line ($50).



---
liquidlightning

-

26-7-2012 at 10:44



Do you still have this? Not sure what it's called, but it would be perfect for making nitric acid, or as a gas washing bottle. The one without the diffusion plate would work too.




[Edited on 26-7-2012 by liquidlightning]
---
Dr.Bob

-

26-7-2012 at 10:53



It is sold already, sorry. I have sold most of the gas washing bottles, I still have a bottom piece or two, but the gas dispersion tube tops break easily, or have been lost. If I find any more, I will post them.
---
liquidlightning

-

26-7-2012 at 10:57



Oh well, let me know if you find any more then. Thanks.
---
chemrox

-

26-7-2012 at 12:25



I need a 5L rb and mantle for my large soxhlet. The joint is 29/42 but I have the adapter to 24/40.
---
DJF90

-

26-7-2012 at 13:24



You mean like this...
---
Funkerman23

-

31-7-2012 at 16:37



any chance of that mantle being for sale?
---
walterWhite

-

5-8-2012 at 12:02



Im looking to buy a vacuum distillation set, here is a link to the one I'm thinking about buying.

https://www.pelletlab.com/vacuum_distillation

My question to Dr.Bob is, do you have enough glassware to sell me a kit like the posted one? and for what price would it be?

and to anyone else, is there a supplier, not ebay or amazon, that would sell what Im looking for for cheaper.

Thanks.




---
Funkerman23

-

5-8-2012 at 12:32



For a few dollars more why not simply buy a Organic chemistry kit From Laboy? I own a set and the glass is good. The flasks are excellent and the seals are actually well made. here is a link to the kit but if you want just a distilling setup simply buy each part that you need. Be warned from the date of invoice it will be 2 weeks until they ship. If you want it to come faster put it in the notes section when you fill out your order. Link to Org. Chem. Kit http://www.laboyglass.com/list.asp?id=5306

[Edited on 5-8-2012 by Funkerman23]
---
Acquisition of apparatus
Ionic Chemist

-

5-8-2012 at 18:00




Dr.Bob is it possible for you to ship any of the glassware and other equipment to Jamaica or are you restricted to the United States? If possible I'd like to see what I could purchase.


Thank You.....

---
Dr.Bob

-

5-8-2012 at 18:35



I can ship most anywhere, I mostly use international first class mail up to 4 pounds. Things over that are more expensive (per pound) typically, and can be more of a customs pain, but can be done.

For example, Canada is about $18 for 4 pounds, up to Aust. at $35. for 4 pounds.

PS. This weeks finds are plastic petri dishes, glass square bottles (~8 oz) with Teflon lined lids, pasteur pipettes (short and long), and rubber pipette bulbs (2 ml) for use with Pasteur pipettes. I will try to get them listed in the list shortly with prices, and re-post a more current list. I also found a few more Teflon stopcock Sep. funnels ( up to 2L) for people who have been asking me about them.

Bob
---
Ionic Chemist

-

6-8-2012 at 05:51



Totally awesome, finally I've found someone that can ship to Jamaica. Please if it is possible, create a .doc, .docx or .xls link consisting of your current stock of equipment. It would be greatly appreciated.


Thank You ......
---
Dr.Bob

-

6-8-2012 at 17:50



Here is the latest list of glassware available. I found a few more 1000 ml erlenmeyer flasks, a couple of 1000 ml beakers, and some more mint condition Sep. funnels. Also still have a few hotplates, stirplates, and stirring hotplates left.

Out of media and reagent bottles other than 1000 ml and larger now. Running out of full distillation kits, but still haev many pieces as well as more esoteric adapters and flasks. I still have lots of 14/20 flasks in almost all sizes under 250 ml- 1, 2, and 3 necks included.

Attachment: Glassware Inventory.xls (61kB)
This file has been downloaded 708 times


---
haroldramis

-

6-8-2012 at 22:14



I just got some glass from Dr. Bob. Very legit seller. Very pleased with the purchase.

Some rambling now,.. I think itd be nice if there were some way to set up a feedback system like they do with ebay. Itd be nice to have a trade forum here.

There are probably quite a few people would benefit from it and it would open up alot of people to chems/glassware they normally wouldnt be able to get, and help others get rid of excess stuff they might not want to sell on ebay(and get buggered by the high fees)

Enough ramblings..

Thanks Bob

Cheers
---
Dr.Bob

-

25-8-2012 at 10:44



Here is the latest list of glassware available. I found a few more 125 and 250 ml erlenmeyer flasks, a couple of 1000 ml beakers, and some more mint condition larger Sep. funnels. Also still have a few hotplates, stirplates, and stirring hotplates left. Also found a few 2 and 3 L rbfs with various single and triple necks in 24/40, 29/42, and larger necks. I also have more disposable Pasteur pipettes in 5" and 9" sizes, $10 per pack of ~250, with a free rubber bulb while supplies last (I just found more, if you bought these before I will give you a few with any other purchase.) Also have some 4, 8, and 16 ml vials with caps left.

I still have lots of 14/20 flasks in almost all sizes and styles under 250 ml - 1, 2, and 3 necks included. Also some Kjeldahl flasks in 300, 500, and 800 ml size if anyone uses those.

http://www.amazon.com/Kimble-Kontes-KIMAX-Kjeldahl-Flasks/dp...

Also, I found 12 Apothecary Flasks, in 2 oz/50 ml size. I will take offers on them, but I also put some of them them on Ebay as well:

http://cgi.ebay.com/ws/eBayISAPI.dll?ViewItem&item=33078...

Glassware list and prices: Attachment: Glassware Inventory.xls (61kB)
This file has been downloaded 619 times


[Edited on 25-8-2012 by Dr.Bob]
---
I am looking to purchase
borrowedlawyer

-

26-8-2012 at 00:03



Hello,
I am looking at purchasing some glassware from you, how would I contact you?
Thank You,



[Edited on 2-9-2012 by ScienceSquirrel]
---
Dr.Bob

-

26-8-2012 at 17:46



If anyone is interested in glassware, just left click on my name and select "Send u2u" and send me a note, and I will reply as soon as I can. Since I cannot send attachments in u2us, please include an email address if you would like photos, lists, or other files, and I will send you an email back with those.

Note, I also have found some boxes of plastic transfer pipettes, like the ones below, I can sell a bag of ~100 for $5, or a case of 500 for $20. They hold up to 7 ml, but are really best for moving about 1-3 ml per squeeze. These are non=graduated, but I might have a few that are graduated as well.

https://new.fishersci.com/ecomm/servlet/fsproductdetail?aid=...


---
Dr.Bob

-

31-8-2012 at 04:26



Just a note to let people know that I will be on a work trip/ vacation for a little while, so don't be surprised if i am slow to return messages and email. I have shipped all paid orders now, but please be aware that I won't have good access while traveling. But I will answer messages once I return.

Thanks to everyone for your help with cleaning out my garage/basement/attic/etc of glassware. I have made a sizable dent in the pile of boxes so that I can get to most of them now. I few more and I might be able to move around in my garage again. :-)
---
Dr.Bob

-

27-9-2012 at 19:50



I have been back a little while, but am finally catching up with things. If you are interested in anything, please send me a u2u with a real email in it if possible, as the u2u system is not very easy to keep up with dozens of people at once. I'll send back an email. That also lets me send photos and excel lists.

I just found a few more small (50 and 100 ml) beakers, still have lots of 2 L grad cyls, and lots of filter flasks, Buchners up to 250 mm, and lots of 14/20 glass frit funnels. I only have a few vol. flasks left. I also found a few more 24/40 long path (~12") dist. heads, complete with condensers.

Thanks to everyone who has helped me and my friend find a new home for some glassware.

Attachment: Glassware Inventory.xls (61kB)
This file has been downloaded 714 times


---
elementcollector1

-

15-10-2012 at 16:30



Hello! Order from Dr.Bob just came in today, and boy, was it HUGE! So many flasks... XD
Thanks Doc! Definitely worth it ordering from him, guys!
---
More praise for Dr. Bob
Daedalus

-

19-10-2012 at 23:17



I just received my shipment a few days ago, and I must say I am very pleased. Chemglass flasks for dirt cheap, among other tidbits, all in good condition and well swaddled in bubble wrap and foam. Shipping was was prompt, and above all, communication was excellent. I highly recommend purchasing from him. Thank you again sir.
---
Dr.Bob

-

28-10-2012 at 14:00



Here is another more unusual item I have 8 of, Baffled Delong Erlenmeyer Shaker Flasks, in sizes from 125 ml to 2000 ml. Some are Pyrex, some are other brands, all borosilicate glass designed for being sterilized in an autoclave. I have attached a link to a description of their uses, as well as attach a photo below. I would love to sell all 8 flasks as a lot, along with the 4 metal caps that I have, for $100 or the best offer I get, plus postage, which would about 10 pounds or about $12-16 by parcel post. But I am open to selling individual ones as well.

http://www.krackeler.com/products/1157-Erlenmeyer/15140-Corn...


---
Dr.Bob

-

29-10-2012 at 17:54



Here are some more biochemistry related items. These are designed for filtering solutions through membrane filters which come in several types and media. I don't have any of the filters currently, but they are easy to find. They have a glass frit which supports the filter. They are often used with very fine filters for purifying water for HPLC and biochemical processes. I have a variety of pieces, which can be mixed and matched to some degree, and the more pieces that some one wants, the better deal I would make. If you wanted a mix of small and large tops, I can do that. I have more tops than bottom adapters, so I will gladly give a small and large top for any version for only a small amount more.

I would ask $40, $50, $35, and $45 for these from left to right.




[Edited on 30-10-2012 by Dr.Bob]
---
CaliusOptimus

-

8-11-2012 at 00:30



Order received! Thanks Doc!
---
smaerd

-

8-11-2012 at 13:42



I checked the inventory list, intrigued by the fritted funnels. Are they the conical shape or are they the buchner shape? Any chance you have a buchner shaped one 5cm diameter and if so how tall is the filtering part from the frit? I'm looking for 10cm of height or more above the frit.
(like this)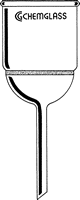 [Edited on 8-11-2012 by smaerd]

[Edited on 8-11-2012 by smaerd]
---
Dr.Bob

-

8-11-2012 at 14:00





I have scads of glass frit funnels, mostly like the photo shown, just haven't had to time to catalogue them well, as well as some are cleaner than others, so hard to describe and price. I have some brand new, some very good, and some dirty which I would sell for cheap. I also have some with the 14/20 or 24/40 joint at the bottom with vacuum inlet for filtering directly into a jointed flask.

Most of the frits are Chemglass as shown, or come in similar sizes as Chemglass. They make them in 15, 60, 150, and larger ml sizes. The 60 ml frit has a frit diameter of 40mm, and the rim is 50 mm above the frit, while the 150 ml has a 60 mm dia. frit and about 60 mm of height above the frit. I do have some larger dia. frits with taller sides, most of those may has been made as short silica gel plug columns. If you look at the Chemglass web page (see below) and see about what sizes and frit porosities you are interested in, I can look to see what I have in that rough size range. One day when I catch up with things (like that will ever happen) I want to make a list of what frits I have and take some photos to post. But I really do have a large variety and likely have something that is close to what you want, just have to see what condition.

http://www.chemglass.com/product_view.asp?pnr=CG-1402

http://www.chemglass.com/product_view.asp?pnr=CG-1402-L
(taller ones in a few sizes)

Smaerd, I'll look for one that is that tall and post if I have one or not, I likely have something like that, but it may be wider dia. frit than 50mm.

[Edited on 8-11-2012 by Dr.Bob]
---
smaerd

-

8-11-2012 at 14:20



A little wider or a little skinnier is fine with me as long as its at least 4cm in diameter the height it pretty important if it's taller that is more than fine. Thanks for the quick reply.
---
zenosx

-

10-11-2012 at 12:16



Just received my shipment, which was very fast from time of order to arrival (about 4 days). Everything was packed very neatly in bubble-wrap with no broken or chipped items.

---
zenosx

-

10-11-2012 at 12:20



Eh, didn't mean to post yet.....,

<AND items listed as (some chips or Used) were much better than I expected, and he even threw in a few little extra's (extra Keck clamp, rubber adapter for one of the buchner funnels), etc.

Not that this will happen with every order for everyone, but it was a nice bonus.

If you haven't yet looked at what Dr. Bob has to offer, and need very high quality glassware (Kimax, Pyrex, Etc.) at prices you can't steal this stuff for, check out the .xml list on this thread.
---
Dr.Bob

-

14-11-2012 at 13:37



I also have a number of polypropylene centrifuge tubes, in several types and sizes, 1-2 ml, 15 ml, 50 ml, and maybe some others, and few brands, including Eppendorf and cyro type tubes, even in multiple colors... While these are mostly used for biochemistry, they are great for some other uses, I used to often use them for precipitating organic compounds in, since the conical bottom was easy to decant liquids from and then dry the tubes in vacuum to produce a dry compound. The polypropylene is resist to most organic solvents and aqueous acids/bases for normal usage. (You obviously cannot heat these or store really aggressive chemicals (eg, Bromine, which reacts with the remaining double bonds in the polymer...) in them long term.)

I don't have a firm pricing, but I am happy to give free samples of these with other orders, and my goal is to get rid of them, so I am happy to provide a low price or entertain offers. I will eventually photograph them, list them in the spreadsheet and price them, but I just wanted to throw this out for people who might want some cheap containers before I do that.

Examples are similar to these:

http://www.globescientific.com/15ml-centrifuge-tube-polyprop...

http://www.globescientific.com/50ml-centrifuge-tube-polyprop...

http://www.membrane-solutions.com/micro_centrifuge_tubes.htm

http://www.alibaba.com/product-gs/348378679/2ml_cryo_tube/sh...

---
Justin Blaise

-

16-11-2012 at 23:26



Yet another glowing review for Dr. Bob. This was my second order from him. Everything shipped quickly and the equipment is in excellent condition, as always. Thanks again Dr. Bob!
---
paw_20

-

17-11-2012 at 14:29



Received my order from Dr. Bob in a timely fashion, or would have if not for the hurricane shutting down the postal service for over a week. But everything was there, safely packed, plus some extras, and I am a very happy camper.
---
smaerd

-

23-11-2012 at 14:05



Just got my order, really happy with it. Appreciative of the extras
. As always a true pleasure.
---
Pages: 1 2 3 4 .. 8